Samsung UA55LS003 The Frame UHD 4K Flat Smart LED TV [55 Inch] adalah Smart LED TV yang memiliki layar berukuran 55 Inch dan UHD 4K Resolution (3840 x 2160), sehingga dapat menampilan kualitas gambar yang jernih serta detail. TV ini juga didukung Tizen OS Smart TV dengan prosesor Quad Core. dan fitur UHD Dimming & Auto Motion Plus, serta dilindungi dengan All Care Protection (Anti Petir, Anti Kelembaban, Anti Debu, Anti Seranggga & Auto Voltage).
Key Features Of Samsung UA55LS003AKPXD :
Certified UHD 4K Resolution (3840 x 2160) With HDR & 2,100 PQI
Elegant & Luxurious Design With Active Crystal Color & Contrast Enhancer
UHD 4K Upscaler With Mega Contrast, UHD Dimming & Auto Motion Plus
2.2 Ch Speaker @ 40 W Output With Dolby Digital Plus & DTS Codec
Tizen OS Smart TV With Quad Core Processor
ConnectShare (Photo, Music & Video) & Quick Connect (Screen Mirroring)
All Care Protection (Anti Petir, Anti Kelembaban, Anti Debu, Anti Seranggga & Auto Voltage)
Garansi Resmi SEIN 2 Tahun Service Spare Parts, 1 Tahun Panel
What's In The Box :
1 x TV Samsung 55LS003
1 x One Connect
1 x No Gap Wall-Mount
1 x Kabel Power
1 x Remote
1 x Buku Manual (Garansi Samsung Dilihat Dari Bukti Pembelian Anda)
Art Mode
Beautify Your Space With Art
Experience the modern way to display your own personal art collection. The Frame matches your space as well as your style. An elegant complement to your home, when it's on, it's an amazing television, and when it's off, it's like a work of art.
Samsung Collection
Beautiful Art, Expertly Curated
The Frame comes with pre-loaded artworks from world-renowned artists. Samsung Collection is expertly curated to provide a sensational art experience.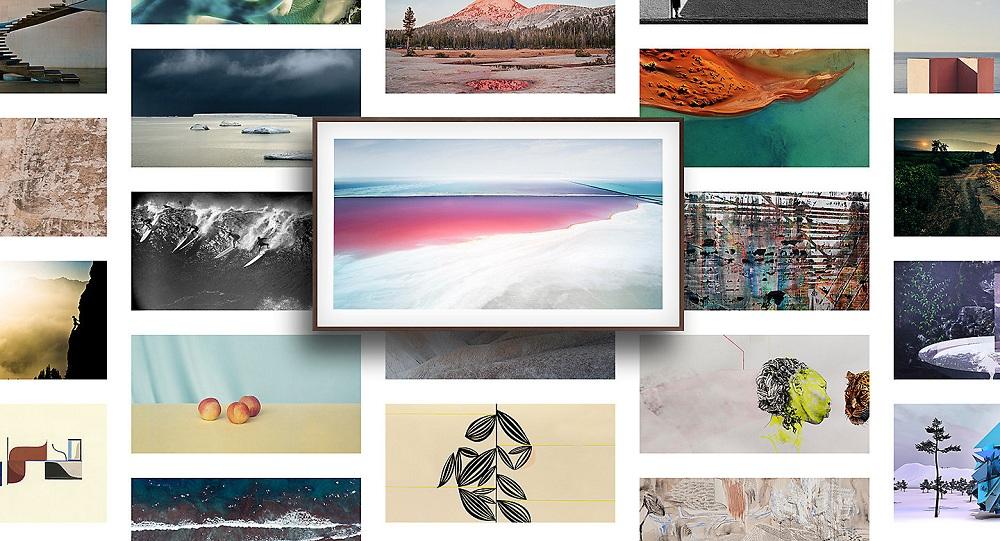 Art Store
Collect New Art Anytime
The Art Store boasts a wide array of artworks available for instant download. Browse new art and content to give your home a fresh new look with membership service.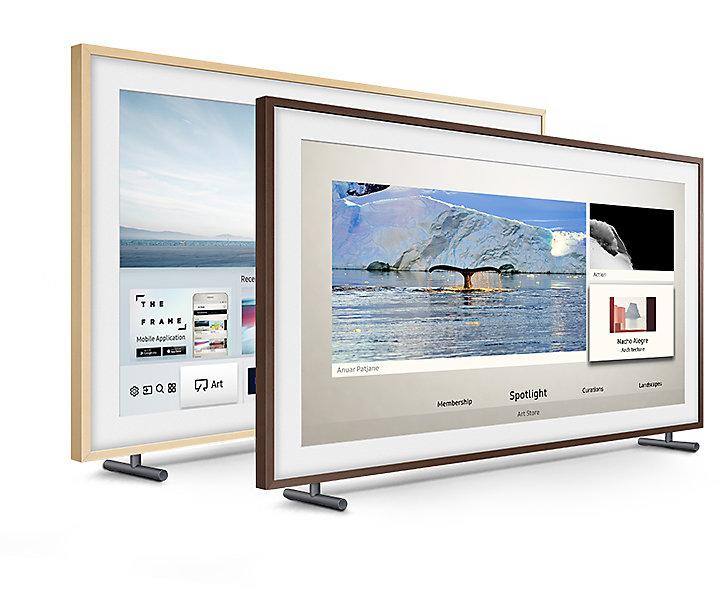 My Collection
Keep Your Favorite Moments As Art
Decorate your space with your own photos and memories. Just upload them via a mobile device or USB drive.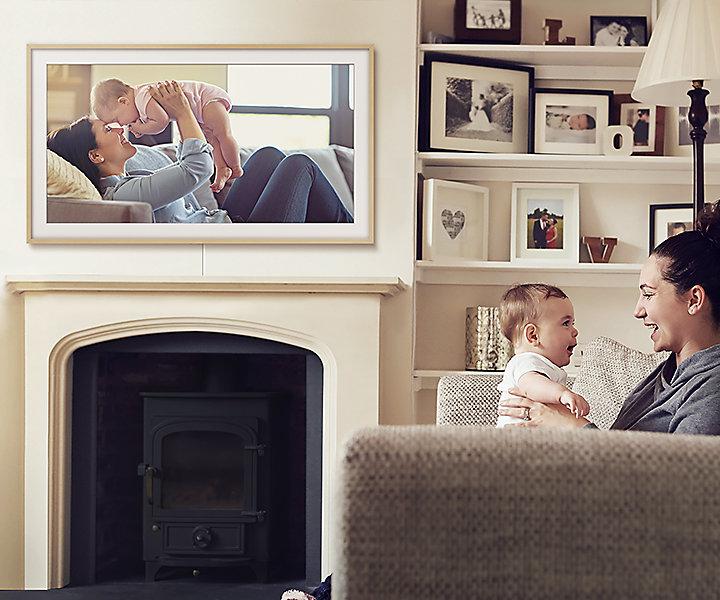 Matte Layout & Color
Fine-Tune Your Art With Various Options
Complement your artwork with just the right combination of matte layout and color. There are dozens of options to choose from.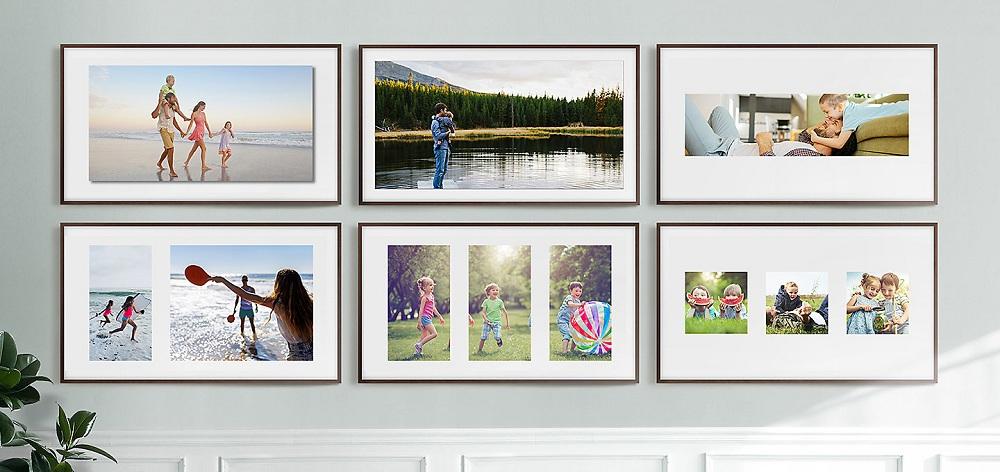 * Matte layout options may differ based on content type.
Frame Design
Blends In Beautifully
Give your space a fresh new look with The Frame's innovative design that suits your style.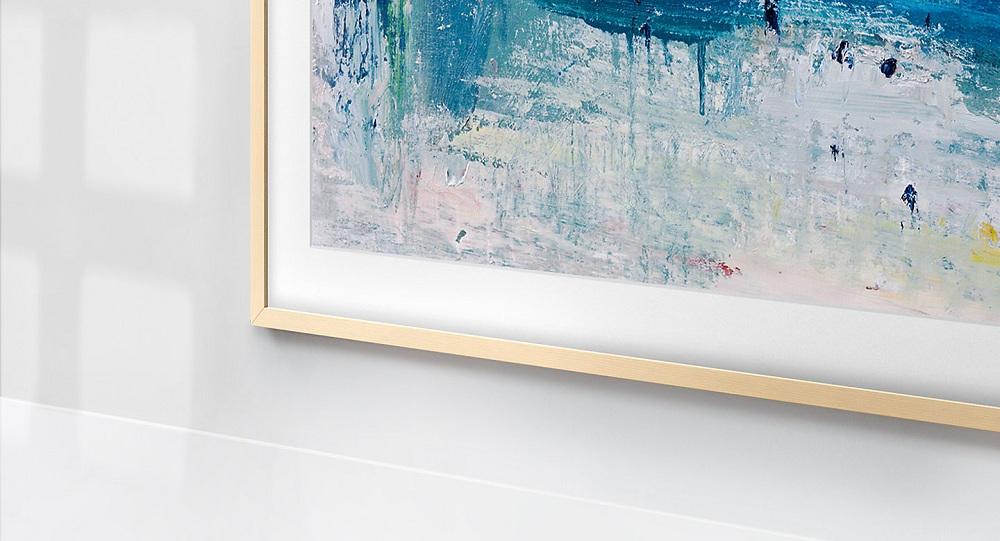 Customizable Frame
A Variety Of Frames To Match Your Style
Choose from elegant customizable frames: walnut, beige wood and white. And their magnetic attachments make customizing The Frame a snap. So you can pick the frame that blends in beautifully with your space.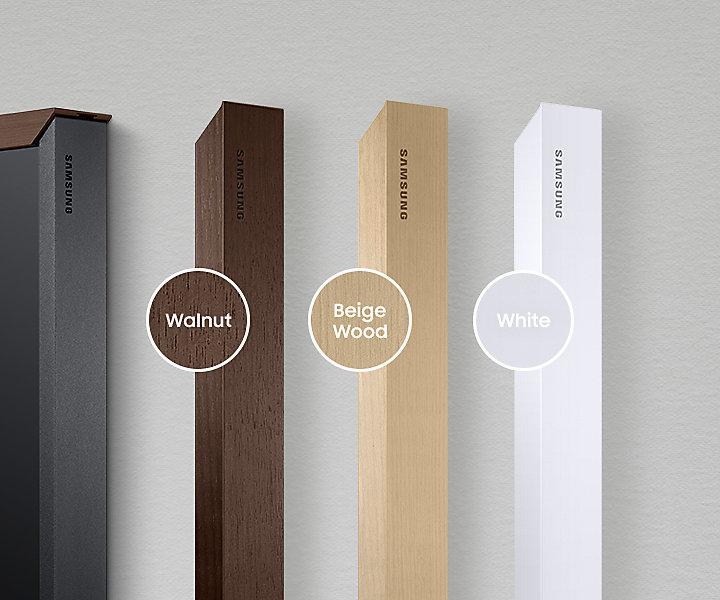 * Each customizable frame is sold separately.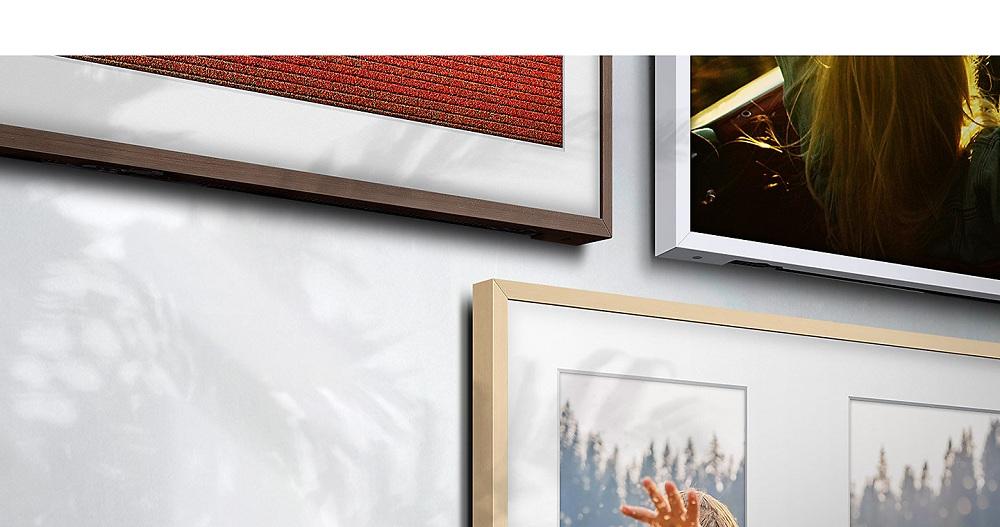 Brightness Sensor
Intelligently Adjusts Your Art To Ambient Light
The Frame detects ambient light and automatically balances the screen's brightness and color tone. Keep your art looking natural, the way it was meant to be seen.
Light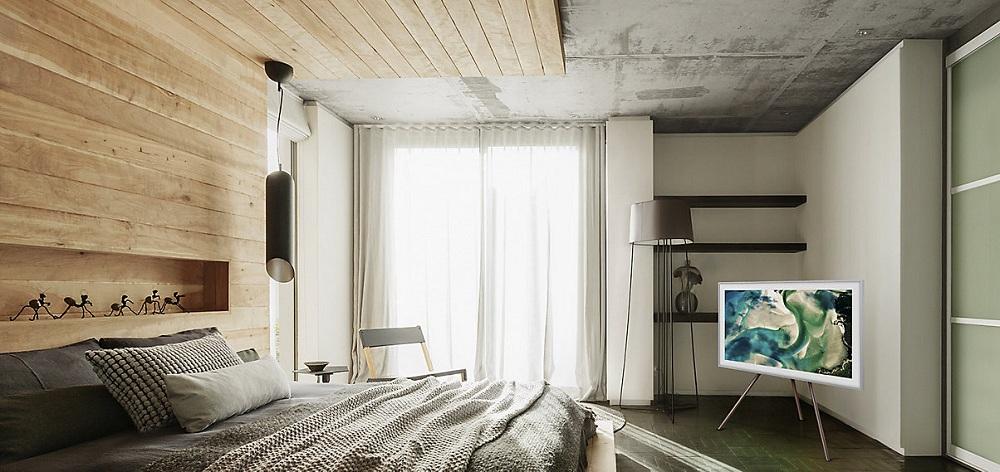 Dark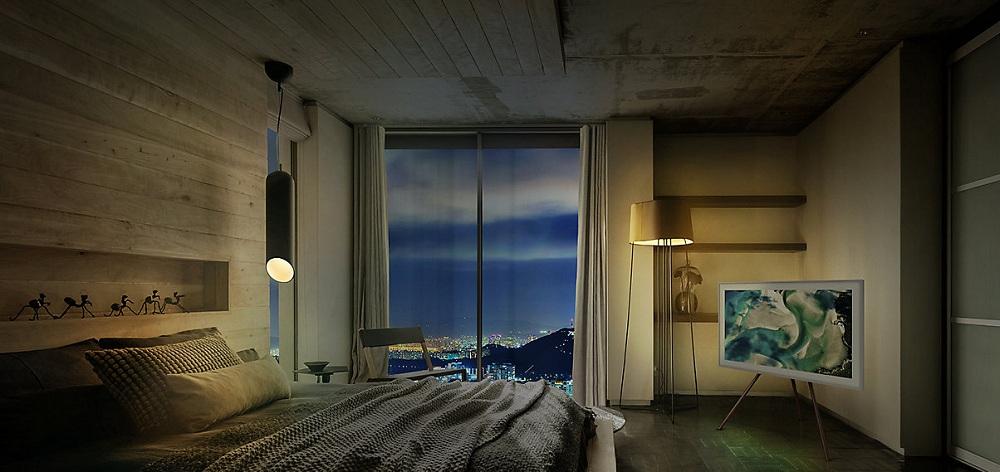 Lifestyle Solution
NoGap Wall-Mount And Invisible Connection
Redefine your TV experience with Samsung lifestyle solutions. You have the freedom to put your TV where your lifestyle demands. The Invisible Connection and No Gap Wall-Mount keeps The Frame looking tidy and minimalist. It hangs flat against the wall with no unsightly wires or cords.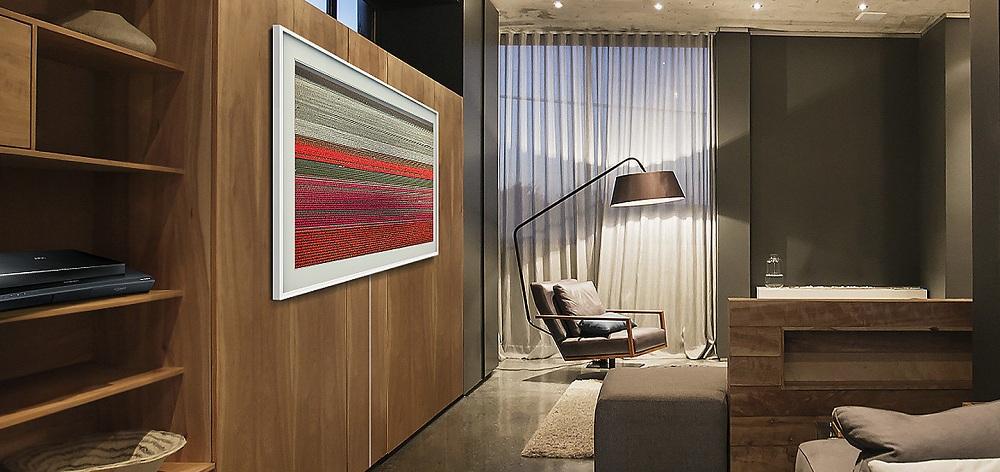 * No Gap Wall-Mount: Measured from rear end of the TV, the gap may differ based on the installation and wall type. *The "Invisible Connection" refers to a single, transparent optical cable connected to the One Connect Box integrating external device cables, but it does not refer to the power cable of the TV or cables connected to other devices such as sound bar.
4K UHD TV
True RGB 4K UHD Experience
The Frame's 4K UHD resolution boasts astounding clarity and radiance. With 4 times more pixels than Full HD, it's 4 times more detailed for a rich, stunning viewing experience. Look for the true 4K UHD resolution (3840×2160) with certified UHD logos.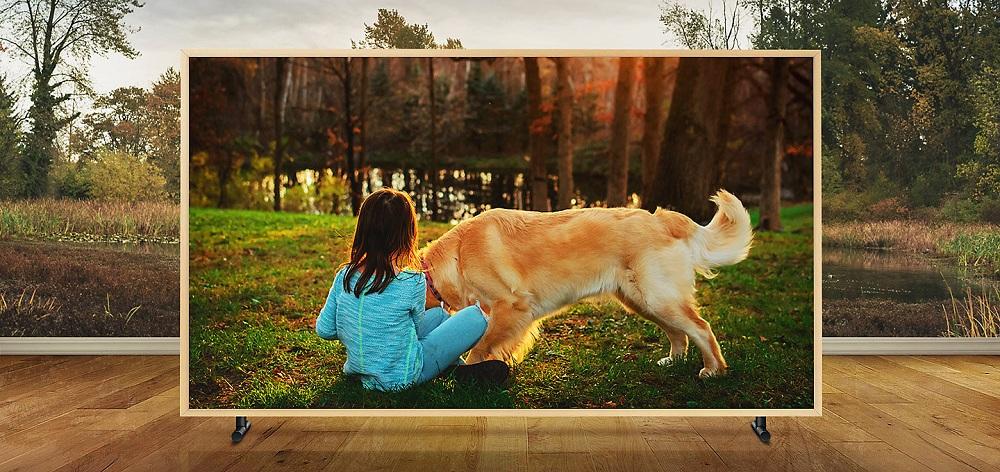 HDR
See Every Luminous Detail
Experience the illuminating power of High Dynamic Range. See every single detail and enjoy cinematic clarity in every scene.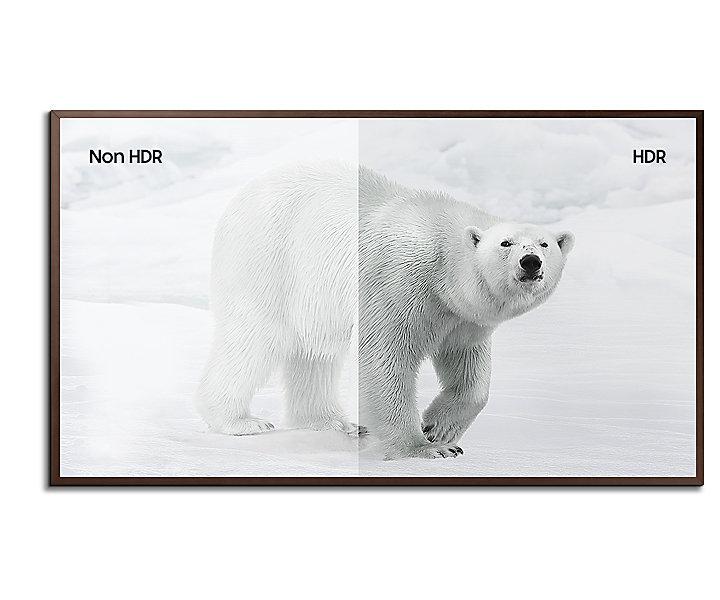 Smart
Smarter Than Ever
Easily control all your devices with One Remote Control. Seamlessly access all your favorite entertainment with Smart Hub and stream content to your TV from your mobile device with Smart View.